Traditional Acupuncture
Fully Licensed Acupuncturist operating in London since 2000.
About Traditional Acupuncture
Traditional acupuncture is an ancient form of medicine that is still used by millions of people, rural and urban, rich and poor, in modern China and East Asia. It involves the insertion of very fine needles into specific areas of the body. These needles are in individual sterile packaging and are used once and then discarded safely. The aim of the acupuncture treatment is to correct energy imbalances in the patient's body and facilitate self-healing.
These energy imbalances may entail a deficiency of Qi (the body's own energy), a blockage of the flow of Qi (perhaps the result of accident, overwork, or stress) or an accumulation of bad energy (such as the result of infection, emotional problems, or lifestyle).
Mark has worked with patients with a wide variety of conditions at his London acupuncture clinic. A list of some of these can be found on the Conditions page.
Many clients use traditional acupuncture in its purest form as a preventative medicine to facilitate general well-being and to help at arduous times. The ancient practitioners recommended four seasonal treatments to keep ill-health at bay
Mark specialises in the treatment of stress and stress-related issues, including irritability, depression, anxiety, mental restlessness and inability to relax, and that general feeling of having too much going on in one's head with the inability to switch it off.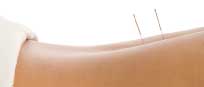 Prior to a traditional acupuncture treatment, it is important to have a good breakfast or lunch. Alcohol must be avoided – and ideally tea and coffee too for one hour beforehand.
Traditional Healing Therapies
Chinese Dietary Therapy
Cupping Treatment
Gua Sha Treatment
Moxa
To learn more about the history of acupuncture click here.